.
Illusions and Pipe Dreams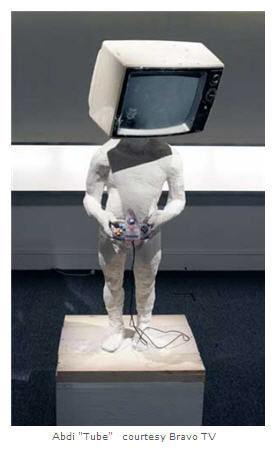 We have taken to watching most of the television shows we watch via tape. We do not watch a huge amount of television (perhaps 1-2 hours an evening), so I end up taping the shows we potentially are interested in viewing on the VCR and we typically watch them a week or so later.
Last night, we watched the season finale of "
Work of Art
." This show is on Bravo, and is a competition reality show about a selected group of 14 artists who compete in various artistic challenges to be selected as the winner of the challenge and eventually the winner of the season.
This show is my favorite show on television. I am exceptionally enamored with art and artistic pursuits. I find people who devote their live's career to art to be fascinating as well. The winner was a fellow named Abdi (a photograph of his work is what is shown at the top of this essay). Two other finalists, Pearigrin and Miles were also featured and also had exceptionally impressive art.
Why do I find art and artists so interesting? Some of it is probably envy. In some way I always have had an idealized dream of being a true artist. Yes, I have talked about the art of science in other essays, and there can be artistic beauty in anyone's work... but I have always found the people who feel compelled to create art to be fascinating... be it in fiction writing, sculpture, photography, or any of the various other forms of traditional "art."
At various times in my life I have dabbled in one form of art or the other... but while I enjoy creating art, I do not seem to posess the stamina or the willingness to make it a life-long pursuit. In many ways, I wish I did. Yet, it appears to be only another of may pipe dreams I have.
One final side note... if my parent's were alive, today they would be celebrating their 64th wedding anniversary. Perhaps they are in heaven celebrating... I hope so.
PipeTobacco