Winds of Time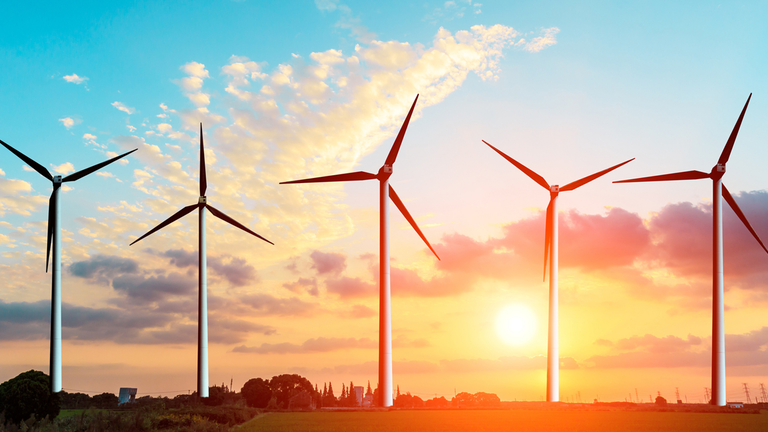 Today was quite windy with heavy rain during my run. But, I still did my 6.6 miles. So, I am glad I did it (but also that today's run is DONE too) :) I took a shower to warm back up afterwards.
I have always wondered why some folks dislike the electricity generating windmills like those shown in the image I have posted. We have several of these relatively nearby and I always find them rather strikingly pretty and a nice addition to the landscape. From my perspective, I would be very much in favor of having considerably more of them. They are quiet. They serve a great purpose, and their austere form is such that I think is actually beautiful in a minimalist sort of way. I find watching them as they gently rotate to be quite relaxing and peaceful too.
During this time of Covid-19, I have been especially aware of my Internet friends. Even though I have been extremely tied to my computer for U work most every day, I have made a consistent effort to at least see if my many Internet friends are seemingly to be doing ok. I have not been commenting as much as I would like on blogs, but I have been reading a lot of blogs, especially to see if people are still doing all right and posting. Other Internet friends (not on blogs) are also being regularly checked in upon ( a few forums I visit regularly, and a few other places). But some Internet friends are not easy to check upon. There have been 3 different folks on the forums I like that have been MIA for a while and it has been a little worrisome as no one knew of a way to contact them outside of the forums themselves. Luckily, for two of these folks, there was at least ONE person on the forum who did know an e-mail for for them and we were able to be reassured that they were doing well.... but just tied up with other things during this time. That was a relief. One forum friend, though, I and several others are still wondering about. We are hoping he is doing ok. He is on one of the music forums I visit. In terms of my blogging friends, I have been able to see that most all of you are still posting regularly and even if I have not commented lately, I am comforted that you are actively posting. The one exception is in my friend here who comments fairly regularly. This friend is Pat. And, I do wonder if Pat is doing ok because I have no way to contact Pat other than through this blog.
I am actually able to spend some time today working on getting some aspects of my upcoming Spring/Summer class up to snuff. It is going to be on-line (of course) due to Covid-19. But, I am somewhat looking forward to trying out making an on-line course from the ground up this time.... I have learned a lot during this forced electronic period. And I still think that face-to-face is and always will be FAR superior. But... with the only option being electronic this Spring/Summer at my U... I am kind of excited to see what I can do. I am going to try my damndest to make this class a rich academic experience that is both valuable in content and fun and enjoyable in practice.
I have a wonderfully aromatic pouch of "Rough Arrowhead Mixture" (a regional blend of pipe tobacco) open on my desk this morning. Its aroma is enticing and pleasant. Even though I would rather be having the full experience of smoking a bowlful of this beautiful leaf, at least having the pleasant pouch odor is nice.
PipeTobacco