Almonds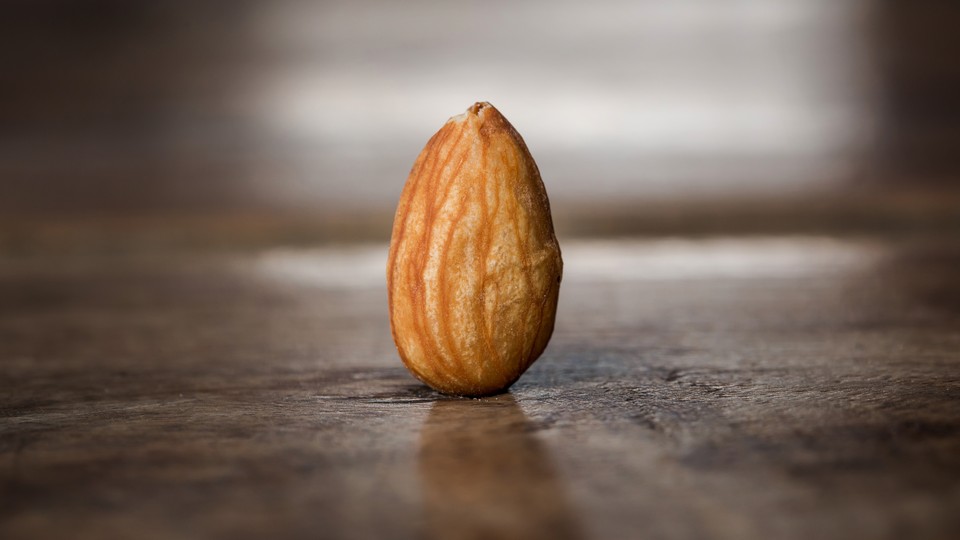 I am sitting here for a few minutes as I eat some of my lunch. In the morning, I typically have some Greek yogurt of some sort, and perhaps about 10 almonds... in addition to my other morning foods (cut fruit, fiber cereal, a banana). But, for some reason, I did not see the little bag of almonds this morning, but I found them as I began to eat lunch items..... now. Almonds feel rather "decadent" for me, as they are relatively high fat (and I try to eat as low fat as possible), but I figure the fat in 10 almonds a day is not overly burdensome.
More drama about that which I do not talk about. That is about all I am going to say, I guess.
I ran 14.2 miles (~23 km) this morning so that I could finish the needed minimum of 50 miles (~80 km) for the week. I am glad it is done. It was a hard week for me for running with the combination of two very early and long teaching days...... which were interspersed with unpleasant emotional days.
Sometimes I feel quite lonely. I dearly love my wife.... but sometimes she focuses far more on what others want her to do rather than what we want to do as a couple, or what collectively we want to do as a family.
Yesterday evening, I was sitting down in the late evening with her hoping to discuss what we wanted to do today and through the Memorial Day weekend. Typically we will purchase flowers for our deceased relatives and take them to the cemetery. And, we typically also purchase our vegetables for our garden and plant our garden.
So, as we sat down, instead of planning out our time together..... she started talking about how she (and we) need to go to her Mom's house and cart around furniture and pack boxes because she has her siblings pressuring her to do this so her Mom's house can be put on the market. In my wife's mind, she was thinking of doing this all weekend long. Neither of her siblings, nor their spouses are physically capable (due to illnesses) to do any of this..... but they want it done NOW. And, as usual, my wife responds by trying to do this..... regardless of what our plans were or what they usually would be. I told her I was way too tired to spend the entirety of this holiday weekend over there cleaning and sorting and being a pack mule moving things.
She also had an engagement to go to breakfast with a friend of hers this morning, and because my sister-in-law's husband left yesterday to go on some trip to see some sort of NASCAR race this weekend, my wife feels that she needs to be over at her sister's house (all the way across town) to make sure she is "ok".
In a way, the above may be a few things..... a) this is how my wife TYPICALLY acts when she is pressured by others..... coworkers, folks at home, various relatives near and far, and that which we do not talk about here as well..... b) this may be a "coping" mechanism she employs to not have to "deal" with that which I no longer mention.
So, as is growing more common.... I am just left out in the wind with no options but to a) either go along with the plan my wife has adopted, or b) go my own way. Both options make me feel alone. But, I have decided to try to simply have as peaceful a weekend as I can. When my wife is home, we can talk and do our normal things. But, I am not planning on waiting around nor am I planning on going across town every day either. I will just try to do my own things. I may or may not go get the flowers and vegetables, and I may or may not go plant the garden. I will just do what I feel I can do, moment to moment. I will likely still feel just as lonely, but I won't have the sense of frustration.
PipeTobacco