Herbivore, Carnivore, or Omnivore?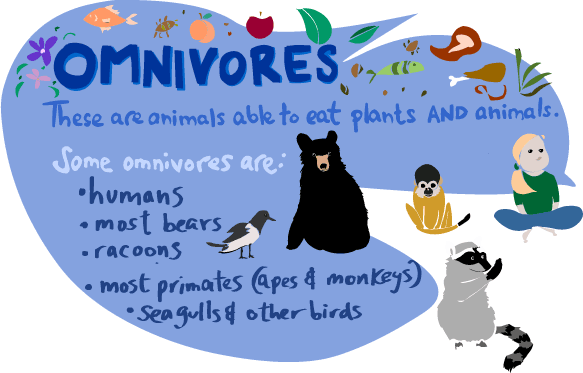 Leslie asked me if I was a vegetarian yesterday. It is a question that I get asked fairly frequently in my blog world and also in my tangible, day-to-day world as well. The short answer is NO, I am not a vegetarian. However the full answer is far more complex. Probably 95% of my diet would qualify as vegetarian.
For the last 10 - 15 years AT LEAST, and probably quite a bit longer, I have typically eaten only 2-3 meals a week that contain some meat. The meat is mostly chicken or turkey. Once in a while I will have fish. And the portions of meat in these "meat meals" tends to be smaller on average as well. I think it has been probably at least 2 years since I have eaten beef. And, it has been at least 5 years since we have cooked beef at home. The time lines in which I have eaten pork would be similar, with the caveat that I have had 5-10 pieces of pepperoni and 5-10 pieces of Italian sausage on pizza during the last few years. I have had lamb on a gyro probably once a year.
So, the reality is I eat relatively little meat. Why? Well, there are two factors.... a) I really just do not like the texture or flavor of pork or beef, and b) I just do not like the smell of beef or pork cooking, nor the smell of most meat cooking. Chicken and turkey are exceptions. They smell reasonably good while cooking.
I hunt (and fish) for a variety of reasons. The "high-brow" concepts for my hunting and fishing include a) since I do eat meat, and I am in favor of people eating meat if they like it, I should be a willing participant in the procurement of meat. Hunting and fishing allow me to experience in a realistic fashion the costs of eating meat. I think it is a much more honest route to take than to be an anti-hunting, anti-animal use person who buys hamburger or steaks for the grill in plastic containers, all neat and tidy. When I have bagged a deer or caught fish, I was being a part of the circle of life that it REALLY takes to be a person who eats carnivorously or omnivorously. Hunting is also a way to feel kinship with my relatives who have died, and my ancestors who had to hunt for survival. As a biologist, hunting also allows me to be more realistically a part of the true environment and ecosystem as a living being who is anatomically designed to eat omnivorously.
From a more colloquial perspective, when I go fishing or hunting this year, it will be more for the camaraderie and fun. At deer camp this coming November, the hunt will likely be a bit of a misnomer for me, as I will likely only spend a short time in the woods this year. I *will* have my license, and my rifle will be cleaned and ready but, I am not particularly interested in "bagging a buck" this year. If I were to spot a true prize rack on a buck, I would be glad to get a beautiful trophy mount of the head to put in my den, and I would donate the cleaned venison to the homeless shelter. However, the reality is that I am not grandly fond of venison.
However, I am very much in favor of hunting and feel as a person who does consume meat, that it is my responsibility to be a hunter. To be a meat eater, one should be willing to participate in the whole of the process to attain said meat. I think it is disingenuous for people to be anti-hunting yet they allow others to kill for them so they can buy their pre-packaged chicken, beef, etc. As a meat eater (again relatively infrequently... perhaps 2-3 times a week these days), I am very comfortable participating in the whole process of collecting meat for consumption. Deer hunting is one way in which I participate. Fishing, which I find more enjoyable of late, is another way to participate.
Now, you may ask, why the hell do I go to deer camp if I am not extremely interested in bagging a buck? Well, if you ask that question, you my friends, have never been to deer camp. Deer camp is a place where fellows can gather and shed the tedious trappings of modern society. No ties, no phones, no shaving. Instead, there is ample drinking, boisterous card playing, engorgement on unhealthy but delicious foods, a general slovenly attitude about appearance, and a helluva lot of good times, memories and fun. That is why I am looking forward to deer camp.
So, no, I am not a vegetarian. I eat a some dairy and eggs. And, I eat 2-3 meals a week that have some chicken, turkey, or fish.
PipeTobacco
Today's (Wednesday's) Goal = 0 bowls
Tuesday's [2/26] Goal = 0 bowls
Actual consumption (Tuesday) = 3 bowls
Walking Day 1620 / SOPS Day 0